1. How was the temple dedication?
IT WAS SO AWESOME!!! Can I just say that Presidente Uchtdorf is so funny. He doesn't speak Spanish so a translator had to repeat everything he said after he said it. It was so spiritual to be there and watch. It was just like being in the temple. Every time a temple is built it weakens Satan's power on the earth. I was so, so happy that this country now has the strength of another temple. Elder Christofferson was there, too. He speaks Spanish very well. During the whole cornerstone sealing they were making funny comments and stuff. It was great! And the Spirit was so strong in the dedication! Just about everyone cried. Except me.
2. I read that almost 1,000 Argentine youth participated in the Cultural Celebration before the temple dedication. Are you in the Buenos Aires Temple district?
I imagine so since we live in the Buenos Aires Province and the temple is fairly close (about 6 hours). I almost got to watch the celebration, but my investigators didn't show up so I didn't get to go :( but I heard it was great!
3. What will you remember the most about Presidente Parre

ño?
His calm attitude. There is so much confusion sometimes about what we should do, and we're all a bunch of children out here trying to do God's work the best we can and sometimes everything seems crazy, but Presidente Parreño puts everything in perspective and seems to always have the answer we need. I'll also never forget perception de los sagrado, or the perception of the sacred. How am I ever going to have dirty shoes again?
4. Did the other hermanas get to skype with their families OK this week? Did it make them too homesick?
They did! We did divisions, Hna Leavitt and Baldwin talked to their families, and me and Hna Gomez went out and worked. Hna Gomez is a teaching pro, and we talked and taught so many people in our 1 hour and 30 minutes together. It was lovely.
5. Do a lot of people walk and jog for exercise there like they do in America?
I would say its about the same amount. There are lazy and active people all over the world - haha.
6. What are some of the favorite things for people in Balcarce to do?
Eat postre balcarce, drink mate, climb the sierras, and go to the cerro (hill) to relax. Sometimes there are huge fairs in the weekends so lots of people go to those. Mostly they go to the sierras, though, and climb them and ride horses and stuff.
7. How was church this week?
We didn't have church, we just had the dedication of the temple. It wasn't stressful at all, though, because I didn't have to worry about investigators - haha!
8. What was your favorite thing this week?
Well, this week
on Tuesday
they called us and told us that Hna Baldwin had
tramitez
. I did that my first transfer, but its basically when you go to Bahia Blanca and get legal. It involves waiting for hours in immigration centers and government buildings. So we got the call that we would be leaving Thursday to travel to Bahia and I thought "NOOOOOOOOOOOOOOOOOOOOO!" But we left anyway.
One other Elder traveled with us - the other new gringo who came in with Hna Baldwin.
So we traveled to Bahia, just the three of us. I was the Spanish speaker out of the group so I had to handle all of the bus rides and stuff - haha. Then,
on Friday,
my comp left to do the paper work and I got to stay with the Hermanas in area Villa Mitre. I did divisions with Hermana Foster, and man, it was just what I needed. We only got to work together for 1 hour and 30 minutes, but I learned so much! She's a machine! A teaching, contacting, testifying machine!! I had met her during Christmas when she only had 5 months, and now she's at ten months. She's from Utah, I think.
We had a fun time and then I reunited with my comp and we left to got back to Mar del Plata. We got there at
midnight
and had another sleepover with the Hnas de Pompeya. It was a nice break of the normal and I consider it the best thing from this week .
9. Did you buy anything new or different?
Well, not this week, but we did buy some spinach noodles that are actually pretty good. Oh, and we bought broccoli! I had not eaten broccoli in 13 months! It was sooooooo gooooddd!
10. What was the biggest challenge this week?
I've just been stressed out because we haven't been able to find any new investigators. Until yesterday we had zero for the whole week which is bad. The challenge was accepting that God tries our faith and we need to keep working as hard as we can even if we don't receive instant results. Sunday
night we found three people. It was a miracle for me after a week of nothing.
11. What was the best/worst thing you ate?
The worst thing I ate was a chicken and mayonesa (mayonnaise) sandwich that I bought from the store. It was soggy and had too much mayonesa. The best thing...well, everything was good this week! I had some good bean soups and chicken :)
12. What was the funniest thing that happened this week?
So when I was with Hna Foster we contacted a guy that just couldn't stop talking. So, finally we managed to teach him something and end the contact and we both stuck out our hands at the same time to shake his hand, so he grabbed both of our hands and put them together and shook them both at the same time. The he let go of her hand and grabbed mine, turned it over, and read my palm. Yeah, it was so weird... He looked at it, pointed to some lines, and then said, "You are going to get married in less than 3 years." We walked away and held in the laugh until we turned the corner.
I also got a package from Sister and Brother Kozak filled with candy!!! And an awesome bracelet!!
13. Have you seen the Southern Cross yet? Here is an illustration showing you how to find it. Also, a picture of the Milky Way in the sky in the Southern Hemisphere. Have you seen it?
Here is a picture of the Milky Way in the sky in the Southern Hemisphere: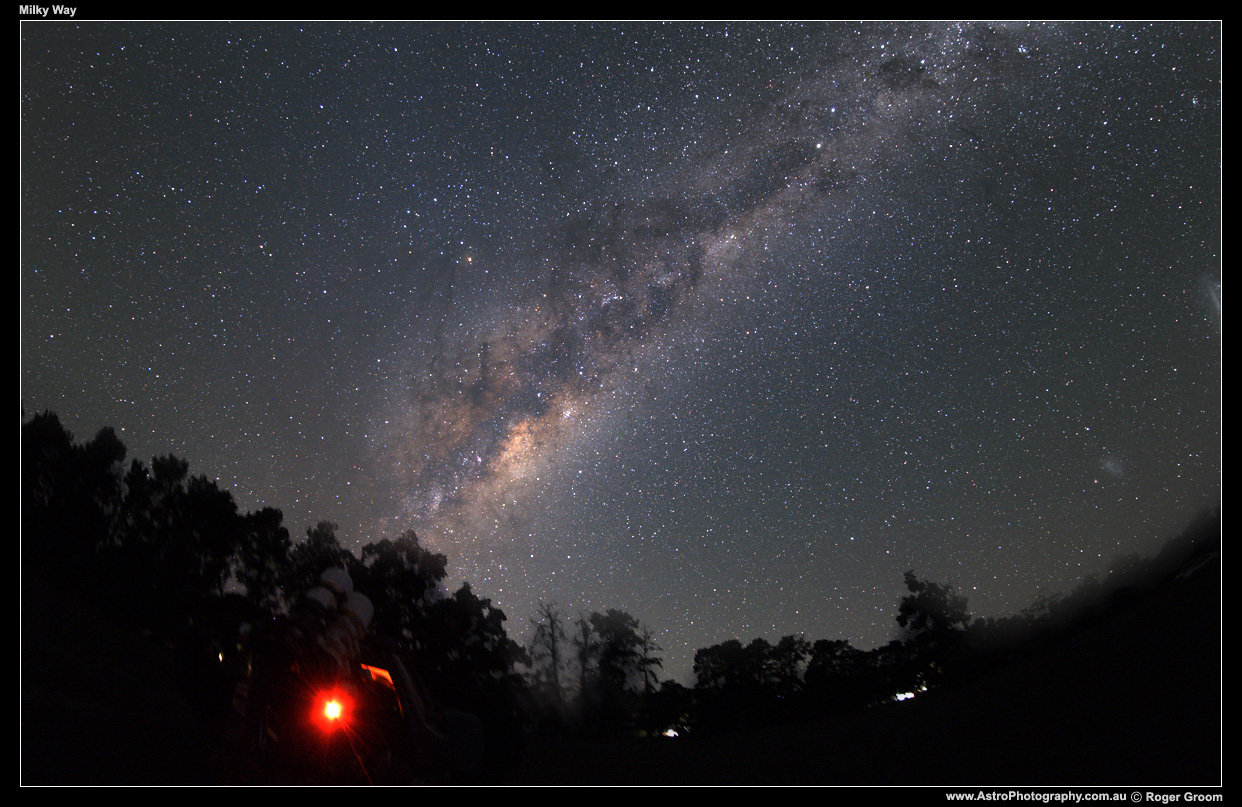 I have seen the Southern Cross, I've been meaning to tell you! When I was in a trio I asked some Latinas to teach me where it was and they showed me. I can see the Milky Way from here, too, but its not as clear as in that picture. But you can definitely see the milky white line part when its really dark.
I love you! Have a wonderful week and thanks for the email! I'm going shopping today! Be safe! Byyyyeeee And I know this church is true! OK bye!